I have no doubt about it at all, I can't imagine a life or eternal life without feline companions.  Or any other animals come to that.
On mornings like today where Rachel just pours love all over Sid it reminds me how special the love for pets is.
This is why I am supporting Cat's Protection League as one of their bloggers.  They are setting out on their campaign of Internet domination (my phrase, not there's) and I'm thrilled to be in at the start.
For now they have created a Cats Protection Blogger Network badge which we are pleased to have here.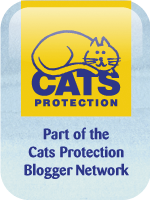 So tell me....
Do you like cats?
Have you adopted a cat?
Do you think cats go to heaven?