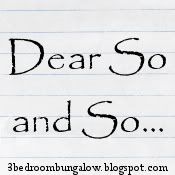 Dear Mike
I know work's crazy these days but does it always have to mean you're late home on a Friday when Rachel is super excited to see you?
love Em xxx
----------------------
Dear Rachel
I was so proud of you today when I saw you asking questions at the church visit about how infant baptism is different to adult baptism. I know you find it hard to speak in front of your class and I am thrilled that you managed to find the courage.
love you baby, Mummy xxx
-----------------------
Dear Train Operating Company
Please make sure your trains run on time tomorrow between Reading and Banbury. I have made the brave/silly decision to take the train to attend the Eucharist and teaching being held by ++Rowan and would like to make it on time.
thanks Emma
----------------------
Dear Emma
I can't wait for our girly night tonight; I wish we could still see each other every single week like we used to, but hey life is what life is.
love Em
----------------------
Dear Readers
Thank you for reading; I am constantly astounded that anyone would want to read my random thoughts and ideas, thanks for being a quiet encouragement to keep pouring them out through the computer
Emma