As those of you who read my blog know, I love to write. I have also discovered a fabulous series of challenges for writing which spark my creativity every week. One of these is...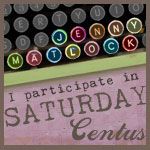 But this week I think Jenny is having a funny turn; she's challenged is to write a sentence, just a sentence, but with no letter E in it.
I hate the thought of it; I can't bear the torture of the exercise.
Yet I can't resist the challenge; so here is the longest and most saturday-appropriate sentence I can muster.
Thanks to God; today I go about my world without any panic, just with loads of family fun and joy.
What sentence would you write about your day without using any Es?